About Gallstones
Gallbladders removed unecessarily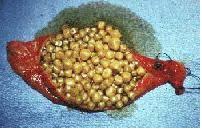 Of the 500,000-700,000 gallbladders removed each year inthe U.S., only a few thousand need to be removed - according to natural alternative doctor Joseph Mercola, M.D.,and then usually because the warning signs were ignored.
Anyone who has had their gallbladder removed will need to take some form of bile salts with every meal for the rest of their life - if they wish to prevent a good percentage of the good fats they eat from being flushed down the toilet.If one does not have enough fats in the diet, their entire physiology will be disrupted - especially the ability to make hormones and prostaglandins.
(Dr. Mercola recommends Beta Plus from Biotics Research);
Cleanse small gallstones from gallbladder and small intrahepatic stones from the liver
Overnight Liver / Gallbladder Cleanse
Cleansing the gallbladder of small gallstones and the liver of any small intra-hepatic stones (formed inside intrahepatic bile ducts) dramatically improves digestion - which is the basis of health. Some stones are just too large to be flushed out, and although the liver/gallbladder flush is unable to remove large stones, many attest to the ability of the liver flush to address many symptoms associated with large gallstones (E.g. gallbladder attack) and also to give an increased sense of well being.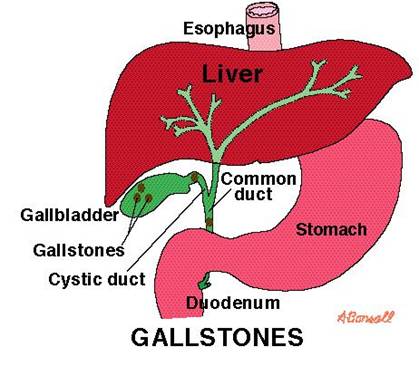 The liver makes 1 - 1 ½ quarts of bile in a day - the liver's intra-hepatic bile ducts deliver bile to one large tube called the common bile duct, which is then stored in the gallbladder, attached to the common bile duct. About 20 minutes after eating fat or protein, the gallbladder is triggered to squeeze itself empty, and the stored bile finishes its trip down the common bile duct to the small intestine.
As intra-hepatic stones grow and become more numerous the back pressure on the liver causes it to make less bile, and as your gallbladder fills with stones, less bile makes it more difficult for the gallbladder to remove the stones - by way of analogy, if your garden hose had marbles in it much less water would flow, which in turn would decrease the ability of the hose to squirt out the marbles. Consequentially, less cholesterol leaves the body and cholesterol levels rise, thus creating more gallstones.
Gallstones, being porous, can pick up bacteria, cysts, viruses and parasites that are passing through the liver - in this way "nests" of infection are formed, supplying the body with fresh bacteria. Stomach infection (such as ulcers or intestinal bloating) can not be cured permanently without removing intra-hepatic stones from the liver.