Is Phytic Acid Good or Bad?
Phytic acid can cause nutrient absorption and utilization problems
– Particularly in those whose diet relies heavily
on high phytic-acid containing plant foods
Phytate is the salt (minerally chelated) form of phytic acid (free acid) - mineral nutrients (mostly magnesium, potassium and calcium –all positive ions) are stored in grains, seeds, nuts, and legumes bound to phytic acid and are released when broken down by phytase enzymes. Phytate accumulates in the seeds during their ripening period.
Phytate presence in the diet can cause mineral deficiencies in the body by forming metal-phytate complexes – phytic acid can bind to positively charged mineral ions (cations) in the GI tract due to the negative charges on its phosphate (P) groups, which give phytic acid its chelative (binding) properties over a broad pH range. Minerals at risk of being bound by phytic acid include magnesium (Mg++), calcium (Ca++), iron Fe2+/3+), zinc (Zn2+), manganese (Mn2+), copper(Cu2+), potassium (K+), sodium (Na+), cobalt (Co++).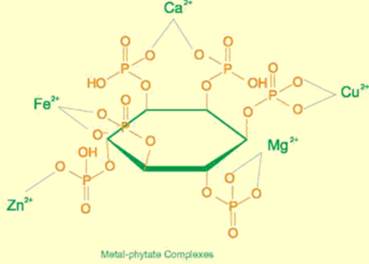 – In the long-term, an early sign of this is chronic toothdecay
Phytic acid negatively impacts utilization of protein and starch/carbohydrate by inhibiting enzymes needed for their digestion:
✔Pepsin to break down protein in the stomach
✔Amylase to convert starch into sugars
✔Trypsin for breaking down proteins in the small intestine;
Phytic acid negatively affects lipid absorption
Detrimental health effects of phytic acid
Detrimental effects of phytic acid can be reduced – by using food preparation techniques, such as SOAKING, GERMINATING and/or FERMENTING to activate naturally present (or added) phytase enzymes to break down the phytic acid. The overall benefits are that the food is:
✔More digestible
✔Has higher bioavailable nutrients
✔Has less nutrient-depleting anti-nutrients
Phytic acid also CONFERS some beneficial effects
– Particularly when consumed in moderation:
– Protects against a variety of cancers - mediated through:
✔ Antioxidant properties,
✔Interruption of cellular signal transduction,
✔ Cell cycle inhibition
✔Enhancement of natural killer (NK) cells activity.
– Therapeutic against:
✔Type 2 diabetes
✔ Atherosclerosis
✔Coronary heart disease
✔Kidney stone formation
✔HIV-1
✔Heavy metal toxicity;
Therapeutic Benefits of Phytic acid
– The bible contains several positive references to eating bread - especially unleavened bread.