Herbs, Spices, and Salt
• Salt
• MSG –Monosodium Glutamate and other neurotoxic free glutamate
• RAW, UNFILTERED Apple Cider Vinegar
Herbs and Spices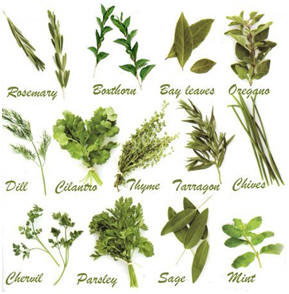 Use fresh and fresh-dried herbs liberally
| | | |
| --- | --- | --- |
| – Parsley | – Oregano | – Sage |
| – Marjoram | – Thyme | – Basil |
| – Mint | – Cayenne | – Cloves |
| – Cumin | – Coriander | – Ginger |
| – Cinnamon | – Bayleaves | – Rosemary |
| – Turmeric | – Chili peppers | – Saffron |
| – Fenugreek | – Cilantro | – Nutmeg |
Suggestions for Using Herbs and Spices:
(1)Mixed Herbs for soups
(2)An Italian herbal mix for Italian dishes
(3)Chili powder for Mexican food
(4)Curry Powder for Indian food
MSG (Monosodium Glutamate)
DO NOT USE
Toxic flavor enhancer - MSG is a hidden ingredient in many products, designed to enhance the flavor of food. This might be alright if it wasn't an excitotoxin - a substance that causes your brain's neurons to fire, which when present in excessive amounts, can over-stimulate neurons, even to the point of destroying them.. Many people experience painful migraines after consuming MSG –a sure sign that something is wrong!
MSG –"Monosodium Glutamate and other neurotoxic free glutamate"
Salt
Use RAW, UNFILTERED Apple Cider Vinegar with the "mother"

(E.g. Garden of Eden®or Braggs®)
Raw, organic, unfiltered Apple cider vinegar has multiple health benefitss