Attributes of a Good Probiotic Supplement
Probiotic content should be consistent - Whilst it is desirable to obtain bacteria from a healthy diet, food sources such as yogurt are inconsistent in quality; some commercial yogurts are pasteurised after culturing which kills the bacteria. Also, the life of bacteria in yogurt is shortened by its liquid medium.
Bacterial Strain
• Should be of human origin. Has ability to adapt naturally to the human body;
• Must be able to survive transit through stomach and bile acids to reach the small intestine. However, do not buy enteric coated tablets, instead choose acid-tolerant bacterial strains, which cost half as much.
• Should produce natural enzymes, vitamins, lactic acid, and hydrogen peroxide
• Must be able to adhere to the intestinal wall mucosal cells
• Capable of colonizing human GIT
Number of viable cells
One needs a daily amount of at least 1-10 billion (109 -1010) viable organisms to make any health difference. More under certain conditions, such as prevention of traveler's diarrhea. Supplements should state the number of viable bacteria on the label. Unfortunately, a recent study found that 13% of probiotic supplements did not contain claimed amount and one third of those contained no live/active bacteria
Viability of organisms
Must be antagonistic to pathogens
Must remain in GI tract long enough to be effective. Following chart shows percentage of supplemented organisms remaining in faeces after so many days of taking probiotics.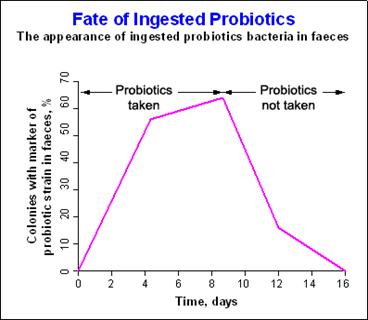 Must remain viable during storage
Encapsulated supplements are the preferred way of controlling the survival and shelf life of probiotic. They protect bacteria from oxygen, light and moisture, which tends to kill the probiotics.

Temperature is critical for survival. Supplements should be stored in a freezer to maintain maximum potency; although this is not necessary if the organisms have been freeze-dried.

Selection of the right strains of bacteria is critical to both survival and performance of probiotics;

A good probiotic should remain stable for 2 years at room temperature
Supplement testing / extras
Supplement should be independently tested
Supplement is even better if it contains a prebiotic. E.g. FOS or inulin to feed the "good guys".