How to Treat Crohn's Disease?
Low Dose Naltrexone (LDN)
This chronic inflammatory disease of the small bowel is notably difficult to treat, but in a 2007 publication, Dr. Jill Smith wrote an article entitled "Low dose naltrexone therapy improves actve Crohn's disease", reporting that 12 of her 17 patients went into remission and all but two experienced some benefit from the therapy. Before and after treatment colonoscopy photos showed impressive results with inflammation cleared in the bowel mucosa. The oral 4.5 mg dose of Naltrexone was given in the evening for 12 weeks.
Low Dose Naltrexone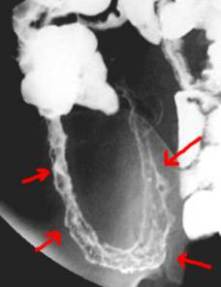 Typical appearance of Crohn's disease involving terminal ilem with ulcerations noted on barium small bowel examination (red arrows) . Photo credit: Jeffrey Dach MD