What is Causing Trigger Finger?
Tendons 101
Tendons are tough cords linking bone to muscle to move the bone when the muscle contracts - in the hand, tendons run along the front and back of finger bones and are attached to the muscles in the forearm.
On the palm side of the hand, the flexor tendons are held close to the finger bones by ligaments called Annular or A pulleys, which arch over the synovial flexor tendon sheath (see diagram below) - the A-pulleys (together with cruciate ligaments) form a continous tunnel through which the flexor tendons pass. The protective synovial flexor tendon sheath produces a little fluid to keep the flexor tendons lubricated, enabling them to move freely within the sheath when the fingers are bent and straightened.
Fingers have 4 or 5 A pulleys and 3 cruciate ligaments. The thumb has 3 A pulleys and one oblique pulley. The first annular pulley (A1 pulley) lies near the head of the metacarpal bone (in line with the knuckles).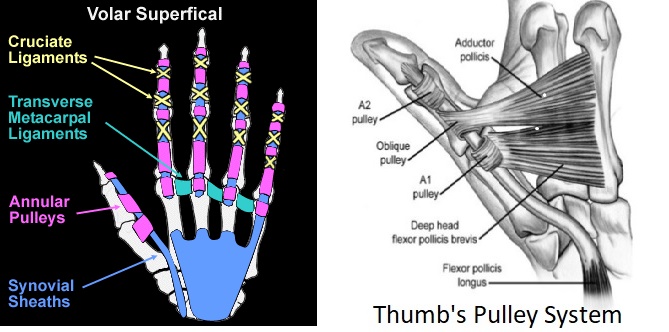 Trigger finger occurs if a tendon can not easily move through its pulley at the base of the finger / thumb (i.e. at the knuckle) - the tendon can then bunch up to form a small lump (nodule) making it difficult to bend the affected finger or thumb. Straightening the finger or thumb unbunches and releases the tendon causing a painful click. Pain is also experienced as either the tendon or sheath become inflamed, which produces swelling that reduces free movement. Whether the inflammation is the origin or result of the problem has not yet been determined.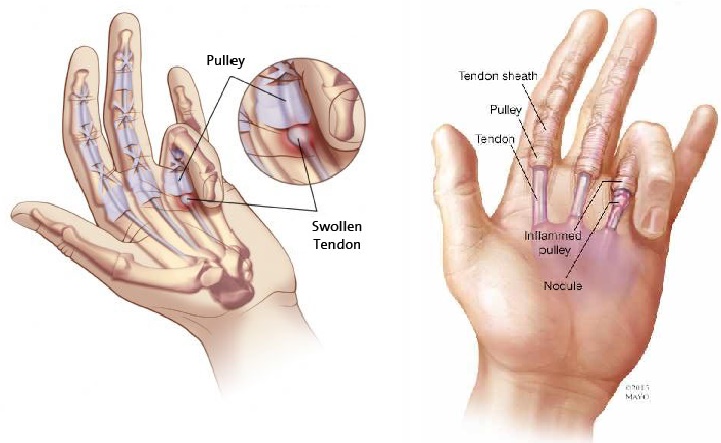 Risk Factors
Exactly what precipitates trigger finger is unknown, but several factors may increase its development:
• Being female
• Being > 40 years of age
• Having certain medical conditions - such as Dupuytren's contracture (thickening connective tissue thickens in the hands's palm causes finger(s) to bend towards palm), diabetes, gout, rheumatoid arthritis, carpal tunnel, and being on kidney dialysis. With these conditions, trigger finger will be just one symptom added to others associated with the condition. Note that trigger finger is not necessarily accompanied by these conditions.
• Overuse of tools pressing into palm - e.g. a screwdriver