ABOUT: Urinary Tract Infection (UTI)
The urinary tract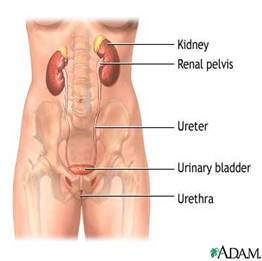 ✔ Kidneys - a pair of purplish-brown organs located below the ribs toward the middle of the back. Kidneys remove excess liquid and wastes from the blood in the form of urine, keep a stable balance of salts and other substances in the blood, and produce a hormone that aids the formation of red blood cells
✔ Ureters - narrow tubes that carry urine from the kidneys to the bladder
✔ Bladder - a triangular shaped chamber in the lower abdomen. Urine is stored in the bladder
✔ Urethra - urine in bladder is emptied through the urethra
✔ The male and female urinary tracts are relatively the same - except the male urethra is longer
A UTI occurs when bacteria enter the urinary tract and reproduce out of control
– The main factor determining whether or not infection will follow is the strength of body's defense mechanisms at the time - Most infections occur because the body is not able to defend itself.
There are different types of UTIs depending on location:
✔ Urethritis – an infection limited to the urethra, where most UTIs occur;
✔ Bladder Infection (Cystitis) - UTI spreads from urethra to the bladder;
✔ Kidney Infection (Pyelonephritis) - untreated, sometimes the infection can go up the ureters to infect the kidneys - a very serious condition.
✔ Bacterial Prostatitis - male-only UTI causing inflammation of the prostate gland;
Instead of a Bacterial Infection, your problem may be . . .
Candida albicans Overgrowth
– Candida albicans naturally occurs in your body, but gets out of control because of antibiotics, or antibiotic chemicals (E.g. chlorine in tap water, or sodium fluoride in toothpaste)
– This yeast can invite the bad bacteria to take up residency by changing the pH of your urinary tract
– Take Grapefruit Seed Extract (GSE) or a broad spectrum herb like Wild Oregano Oil (WOO) – known to destroy yeast, viruses, bacteria etc.
Interstitial Cystitis (IC), a.k.a. Painful Bladder Syndrome (PBS)
Interstitial Cystitis (IC) –"Painful Bladder Syndrome"