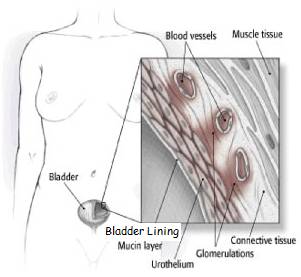 Possible causes of interstitial cystitis (IC)
The cause of IC has not been definitively agreed, but some ideas are:
Nutritionally poor diet / unwholesome lifestyle. Leads to:
(1) Overly-acidic urine/harmful substances in urine. Caustic to the bladder lining;
(2) A compromised immune system that is unable to protect the lining or repair any damage. Typically, you eat too many acid-forming foods, which compromises your immune system.
IC often occurs in tandem with other immune system breakdown disorders. Such as chronic fatigue syndrome, fibromyalgia, and irritable bowel syndrome (IBS). E.g. IC patients are 100 times more likely to have IBS. Lifestyle factors, such as lack of sunshine and too much stress can also compromise the immune system.
Defects in the protective mucous layer that lines the bladder. Causes so-called leaky bladder syndrome allowing harmful substances in the urine to leak through the mucous layer and inflame or ulcerate tissue below. Some evidence suggests that in IC the surface layer of the bladder is deficient in protective called GAGs (glycosaminoglycans). Hurst RE, Roy JB, Min RW, et al. A deficit of chondroitin sulfate proteoglycans on the bladder uroepithelium in interstitial cystitis. Urology. 1996;48:817. Use of supplemental GAGs (such as chondroitin sulfate) has provided little reliable evidence that they work.
Sensory nerves within the bladder "turn on" and spur the release of inflammatory substances
Hormone Connection. Since IC is mainly a woman's disease, there is a possible hormone contribution.