Mushrooms in Sunlight
– Significant provitamin D2 source
Sundried mushrooms - a useful vitamin D supplement
Mushrooms are a largely unknown, significant, plant source of vitamin D2 when purposefully exposed to sunlight
✔ Mushrooms need to be exposed to sulight for two days days - Commercially supplied mushrooms are usually grown in the dark and contain no vitamin D. However, they do contain a rich potential source of vitamin D2 –the vitamin D precursor ergosterol. This can be converted to ergocalciferols (also called provitamin D2) when exposed to UV-B light (wavelength 290- 315 nm)
✔ Can be exposed to sun even after picking –the best time to do this is June through September
✔ Vitamin D levels are retained for at least a year in dried, sun-exposed mushrooms
✔ Can be used as a good supplemental source when sunlight is scarce –eating a handful of mushrooms every other day can bring serum D to a healthy level during non-summer months if living in the northern hemisphere
Use any kind of edible mushrooms – E.g. shiitake, maitake, button
Mushrooms contain several health beneficial nutrients – including:
✔ Beta glucans –for boosting immune system
✔ Ergothioneine, amino acid aminly found in mushrooms – has antioxidant properties; used as a medicine for liver damage, cataracts, Alzheimer's disease, diabetes, heart disease and topically for wrinkles;
✔ Nerve growth stimulators –to help brain function
✔ Antimicrobial properties

<![if !supportLineBreakNewLine]>

How to obtain the highest vitamin D content from mushrooms
Exposure to UV-B ultraviolet light increases D content several–fold – Robert Beelman at Penn State University found that when mushrooms are dried, pulverized and exposed to pulsed beams of UV-B light, their vitamin D is increased several times more than just exposing the mushrooms to sunlight. Consequently, UV-exposed white button mushrooms are becoming available in grocery stores. Additionally the mushroom surface is sterilized as an added bonus.
Slicing the mushrooms before sun-exposure exponentially increases vitamin D content by increasing exposed surface area
Drying the mushrooms after slicing and indoor UV-B significantly affects D2 content - In Paul Stamet's article: Place Mushrooms in Sunlight to Get Your Vitamin D. Posted 08/06/2012, he refers to an experiment he did comparing drying the mushrooms in the sun for 2 days with the gills facing the sun and indoor UV-B exposure.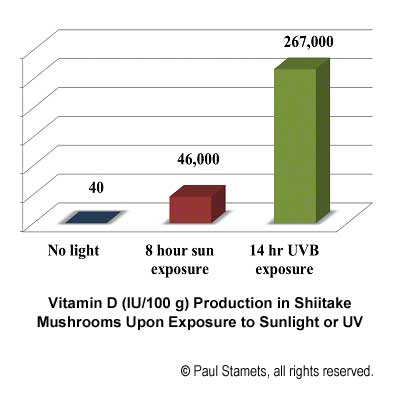 (1 IU is equal to 40 micrograms).
- Paul Stamets noted that:
probably due to over-exposure to UV
providing a greater surface area
This author is going to conservatively estimate a D2 content of 100,000 IU / 100g
For Sun-exposed, SLICED mushrooms
This would yield 10,000 IU of D2 / 10g(a handful) of dried mushrooms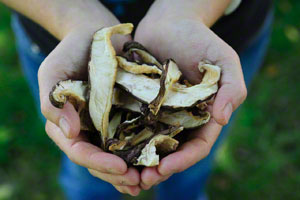 10 grams (~ .35 ounces) of sun exposed, dried shiitake mushrooms
Photo Source: Place Mushrooms in Sunlight to Get Your Vitamin D
How to Produce Vitamin D2 in mushrooms
Instructions extracted from Paul Stamet's online article Place Mushrooms in Sunlight to Get Your Vitamin D
1.Use fresh Organic shiitake, maitake, button, or other mushrooms
2.On a sunny day, slice the fresh mushrooms and place them evenly on a tray exposed directly to the sun from 10 am to 4 pm (6 hours)
3.Before nightfall, cover the mushrooms with a layer of cardboard to block moisture from dewfall.
4.The next clear day repeat exposure to the sun from 10 am to 4 pm.
5.Remove the mushrooms and if necessary finish drying in a food dehydrator until they are crispy.
6.When thoroughly dry, store in a glass jar or sealed container - Add a tablespoon of uncooked rice as a moisture absorber.
7. The mushrooms retain a good amount of D2 for a year or more, depending upon conditions.
8.Take 10 grams (~1/3 oz) daily per person, about a small handful. Rehydrate in water for one hour. The mushrooms will swell. Then cook as desired. E.g. in a soup or cream sauce
This British author's personal favorite mushroom recipe
is creamed mushrooms on toast.
(Creamed mushrooms made with onions, garlic, butter, cream, salt and white pepper)
Does Vitamin D from mushrooms make it into blood stream?
According to Paul Stamet, a Frieburg University Medical Center Study (in Germany) compared 26 people who took a vitamin D2 supplement to 26 others ingesting 120 g (a handful = ~1/4 lb) of UV light vitamin D-enriched mushrooms (containing ~24,000 IU of D2) in soup four times per week for five weeks. The study found that similar levels of vitamin D were absorbed into the blood in both groups and at the end of the study, both groups'serum vitamin D levels had increased to ~50 nmol/L (considered a healthy baseline level).