Body's Flora - Indigenous Bacteria in the Human Body
About one hundred trillion bacteria live inside you. Up to a 1000 species and more than TEN TIMES the number of cells you have in your body! These indigenous bacteria are referred to as the body's flora and live in many areas of your body, including the skin, intestines, mouth, nose, pharynx, urethra and vagina
Organisms are considered either "friendly" or "unfriendly". When "Friendlies" and "Unfriendlies" have an appropriately balanced presence, the body can better maintain health.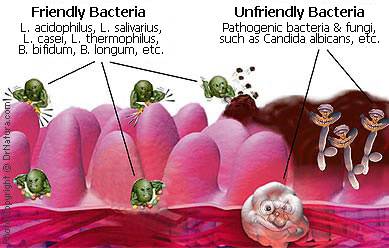 Friendly Bacteria
• "Friendly" bacterial flora provide many health benefits to the body
Beneficial Flora Health Benefits
• "Friendly" bacterial flora thrives on dietary fiber and other so called prebiotic foods.
Unfriendly organisms. Includes pathogenic bacteria,friendly bacteria multiplying out of control, and fungi, such asyeast E.g. Candida albicans;
• The "Unfriendly"organisms in your body thrive on sugar. Imagine the "party"those pathogenic bacteria and fungi (incl. yeast) are having when you feed them !
Body's beneficial flora can be enhanced
How to increase body's beneficial flora
What reduces body's probiotic flora?
The following factors reduce probiotic presence in favor of pathogenic organisms. Including pathogenic bacteria and fungi (E.g. the yeast Candida Albicans):
• Antibiotics. Include those given to livestock for food production, antibacterial soaps
• Poor nutrition. Refined grains, processed foods, sugar/fructose almost exclusively feed pathogens in your digestive system, allowing them to proliferate.
• Toxins. Chlorinated/fluoridated water, environmental pollution, agricultural herbicides, insecticides, pesticides, NSAIDS, cleaning chemicals, smoking etc;
• Contraceptive pills
• Stress. E.g. having surgery
• Alcohol. Beer and wine
• Bottle feeding