Iberogast

™

- Herbal Extract For Intestinal Disorders
What is Iberogast and what does it do?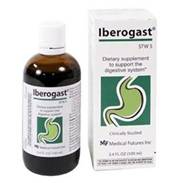 Iberogast™(aka.STW 5) is a proprietary blend of 9 plants including clown's mustard plant (extracted in water and alcohol) - patented in Germany in 1961, which has been used successfully against non-ulcer dyspepsia (NUD), irritable bowel syndrome (IBS), gastritis, gastroparesis and bloating. It is now available in the U.S. without prescription.
• Accelerates gastric emptying
• Reduces pain and cramping
• Alleviates heartburn
• Relieves bloating / induces gas expulsionfromintestines
Plants in Iberogast

Plants

Part

Action in GI Tract

Clown's Mustard

(Iberis amara)

Fresh herb

Normalizes GI tract tension and spasms; relieves heartburn.

German chamomile

(Matricaria recutita)

Flower

Stops spasms in the smooth muscles lining the stomach and intestines

Angelica

(Angelica archangelica)

Root

and rhizome

Relieves loss of appetite, flatulence, and gastrointestinal spasms

Caraway

(Carum carvi)

Fruit

Breaks down spasms in the gastrointestinal tract to prevent flatulence.

Each "seed" is half of a caraway fruit.

Milk thistle

(Silybum marianum)

Fruit

Milk thistle seed can cause mild diarrhea by stimulating the release of bile

Lemon Balm (Melissae foliumor Melissa officinalis)

Leaf

For chronic gastrointestinal disorders

Peppermint

(Mentha x piperita)

Leaf

Celandine (Chelidonii herba

Or Chelidonium majus )

Aerial part

Treats gallbladder problems;stops spasms; stimulates bile production to flush gallstones;

Licorice

(Glycyrrhiza glabra)

Root
Four main mechanisms have been identified:
1. Stimulation of digestive secretions - through interactions with the bitter receptors on the taste buds of the tongue.
2. Regulation of peristalsis (the rhythmic contraction of the intestines) - by exerting either a relaxing or stimulating effect on the intestinal smooth muscle.
3. Protecting the lining of the stomach and intestines -by stimulating the production of mucus by mast cells (mucus-producing cells of the stomach and intestines) as well as preventing the formation of inflammatory substances within the intestinal tract.
4. Prevention of excessive flatulence -by reducing the formation of intestinal gases.
Clown's mustard (Iberis amara) (a.k.a. wild or bitter candytuft) is believed to contain the most active components(Glucosinolates and cucurbitacins) in Iberogast™having specific actions on GI tract tone - although components in its other herbs also play a role:
- Clown's Mustard is a white-flowering plant originally from the Iberian Peninsular, Spain - a member of the Brassicaceae family, it is also grown in Britain, France, and the U.S.. Amara means bitter.
- Clown's mustard seems to increase slow wave frequency and amplitude in the small intestine - which causes peristaltic movement. Its extract has a long history of use for normalizing tension and spasms in the gastrointestinal tract and relieving heartburn. It reduces inflammation, triggers fullness and reduces discomfort in the upper abdomen.
The regions of action of Iberogast™appear to occur in both the body and antrum of the stomach - Schemann et al demonstrated that:
• Extracts of Angelica root, chamomile flower, and licorice root mimicked the inhibitory effects in the proximal stomach (First 3 parts of the stomach: cardia, fundus, and body)
• Extracts of greater celandine herb, lemon balm leaves, caraway fruit, and bitter candytuft increased motility of the distal stomach (Lower 2 parts: antrum and pylorus)
These authors concluded that the inhibitory effects in the proximal and the excitatory effects in the distal stomach by STW 5 may contribute to symptom relief in functional dyspepsia.
Schemann M, Michel K, Zeller F, Hohenester B, Rühl A. Region-specific effects of STW 5 (Iberogast) and its components in gastric fundus, corpus and antrum. Phytomedicine. 2006;13(suppl 5):90-99.CrossRef
Studies mainly support taking Iberogast™ for intestinal problems
(Iberogast™ is widely used for dyspepsia and GIT motility problems)
Iberogast has been studied in over 15 clinical studies. The results from all of the studies indicate that > 80% of people with IBS, GERD, Non-ulcer dyspepsia (NUD) and drug-induced dyspepsia will experience significant relief without side effect.
Iberogast™ has been very successfully used to treat IBS and other GI diseases - for several years in Germany
Ammon, H., P. et al. Spasmolytic and tonic effect of Iberogast (STW 5) in intestinal smooth muscle. Phytomedicine. 13 Suppl 5: 67-74, 2006
Arnim, U. et al. STW 5, a phytopharmacon for patients with functional dyspepsia: results of a multicenter, placebo-controlled double-blind study. Am J Gastroenterol. 102 (6): 1268-75, 2007
- In one study , 20 patients diagnosed with chronic functional disorders for1- 20 years were given Iberogast for 3 to 32 days -Patients also stopped taking medications ( E.g. antacids, anti-spasmodic agents, motility inducing substances) used to treat abdomenal pressure/ pain, belching, heartburn, vomiting, nausea, fullness, lack of appetite, constipation, and diarrhea.
• Abdominal pressure and pain - was the most common experienced symptom, with 11 of the patients rating it as severe. After 6 days of treatment, only 6 of the patients continued to rate their abdominal pain and pressure as severe. After 2 weeks, this symptom had completely resolved for 16patients.
• Diarrhea - rated as severe in five of the patients, but after 2 weeks, only one patient continued to have moderate diarrhea.
Bruckel MH, Gisevius W. Therapeutic effect of Iberis amara in functional gastric disorders. Arztliche Praxis. 1984;494-498.
Iberogast™quickly relieved symptoms in trial involving 40 patients experiencing GI problems related to taking medications for various types of cardiovascular disease and arthritis - symptoms included pressure and pain in the upper abdomen, nausea, abdominal fullness, and lack of appetite. 20 of the 40 patients received Iberogast™for support of gastrointestinal motility. A significant improvement of all GI-problem symptoms in the Iberogast™ group was noted afteronly three days into the trial, and by day 14, their abdominal pressure and pain, nausea, and heartburn were completely eliminated.
MacLean N, Hubner-Steiner U. Treatment of drug related gastrointestinal disorders. Fortschritte der Medizin. 1987;12:239-242.
Several other clinical trials using Iberogast™conducted in Germany reported similar results
Bleimann H, Hartman R. Treatment of functional gastrointestinal symptoms with Iberogast®. Gastro Entero Hepatologie. 1984;52-59.
Holsher HJ. Treatment of non-specific upper gastrointestinal symptoms in elderly patients. Therapiewoche. 1984;34:657-659.
Ohms P. Daily oral treatment: how long can the stomach tolerate it? Arztliche Praxis. 1983;11:3109-3110.
Steimer P. Iberogast®therapy in gastroenterology. Der Krankenhaus Arzt. 1983;56:1005-1008.
Study found that Iberogast™caused changes to smooth muscle cell resting membrane potential (RMP) and slow wave rhythmicity in circular muscle layer of mouse small intestine - The changes on slow waves represents the sum of the effects of the 9 herbal extracts in Iberogast. Angelicae radix and matricariae flos completely blocked slow wave activity, Iberis amara increased the frequency and amplitude, chelidonii herba reduced the frequency and amplitude of the slow waves, mentae piperitae folium reduced the frequency and left amplitude unchanged and liquiritae radix, carvi fructus and melissae folium had no effects.
Storr M, Sibaev A, Weiser D, Kelber O, Schirra J, Goke B, Allescher HD.Herbal extracts modulate the amplitude and frequency of slow waves in circular smooth muscle of mouse small intestine. Digestion. 2004;70(4):257-64. Epub 2005 Jan 8.
One study reported that Iberogast did NOT differ from placebo in its effect upon gastric emptying.
Braden B, Caspary W, Börner N, Vinson B, Schneider AR. Clinical effects of STW 5 (Iberogast) are not based on acceleration of gastric emptying in patients with functional dyspepsia and gastroparesis. Neurogastroenterol Motil. 2009;21:632- 638, e25. CrossRef
Many general medications cause GI Problems
Medications taken long-term for chronic conditions (E.g. cardiovascular diseases, arthritis, and autoimmune diseases) can cause erosion of the stomach lining and ulcers - many medication-caused symptoms are similar to IBS symptoms: pressure and pain in the upper abdomen, nausea, abdominal fullness, and lack of appetite.
Typical IBS medications have serious side-effects not experienced with Iberogast
Reglan® (Metoclopramide) - can cause fatigue, anxiety, agitation, jitteriness, insomnia, yellowing of the skin or eyes, changes in vision, hallucinations, and seizures. Therefore, Metoclopramide must not be taken longer than 12 weeks.
Reglan® and Iberogast™ both effectively reduced IBS symptoms with no significant difference in a randomized comparison study - 77 subjects were randomized to receive treatment of either Iberogast or metoclopramide. The subjects took 20 drops of their assigned treatment after meals three times daily for one to two weeks. In both groups, a parallel improvement of all symptoms was observed. Both treatments significantly reduced pain and pressure in the abdomen, cramping, abdominal fullness, nausea, heartburn, and lack of appetite. However, side effects occurred more frequently and severely in the metoclopramide group.
Nickolay K. Double blind trial of metoclopramide and Iberogast®in functional gastroenterology. Gastro Entero Hepatologie. 1984;2:4.
Iberogast Dosage?
Iberogast bottle contains 100 mL (3.4 oz) of pleasant-tasting herbal extract
Dose:
• Adults: Take 1 mL (20 drops) with your favorite drink (warm water is recommended) 3 X daily before, during or after meals.
• Children age 12 and younger: Take 0.5 mL (10 drops) 3 X daily.
No limits on duration of use