Chronic Obstructive Pulmonary Disease (COPD)
COPD is a progressive (i.e. gets worse with time), chronic, inflammatory lung disease obstructing air-flow to the lungs, mainly caused by breathing pollutants.
To help understand what is going on with COPD, first please see brief description of how the lungs work:
COPD damage reduces the natural elasticity of the alveoli (air sacs) and bronchial tubes. Elasticity is required to force out air/carbon dioxide for exhalation. As a consequence, unexpelled air is trapped in the lungs, which makes it difficult for the air sacs to deflate and bring in new air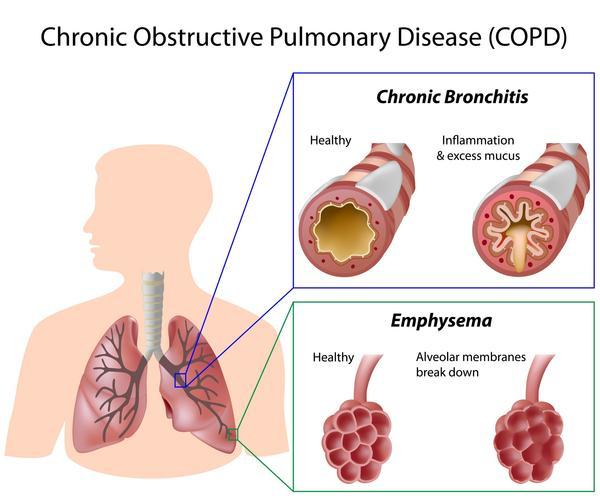 Image: www.lung.net/copd
COPD describes several progressive lung diseases characterized by shortness of breath. Includes:
• CHRONIC bronchitis. The constant irritation/inflammation of the MUCUS MEMBRANE LINING (epithelium) of the bronchial airways (bronchi/bronchioles, which carry air to and from the alveoli of the lungs), causes it to swell and produce mucus, which narrows the airways, making it harder to breathe; a cough ensues to try and clear the mucus.
FYI - Mucus membranes also line the sinuses, GI and urinary tracts
• Emphysema. Breakdown of the elastin of lung connective tissues weakens/damages the thin walls and fibers of the alveoli (air sacs) at the end of the smallest bronchial airways (bronchioles); the alveoli walls eventually break down, producing less, but larger air spaces instead of many small ones, and so reducing the surface area available for gas exchange;
• Non-reversible asthma
• Some forms of bronchietasis
COPD is the THIRD leading cause of death in the U.S. affecting ~30 million Americans. Of those, >50% are unaware they have it
COPD progression causes loss of lung function. Can increase risk for:
• Respiratory infections. E.g. flu, colds, pneumonia - making it even more difficult to breathe
• Lung cancer
• Pulmonary hypertension. High blood pressure in arteries delivering blood to lung
• Heart disease. Reason not well understood
Diagnosis
A breathing test, called spirometry, measures the amount of air blown out of the lungs in how long. This simple test can detect COPD ahead of symptoms