Nutritive sweeteners chart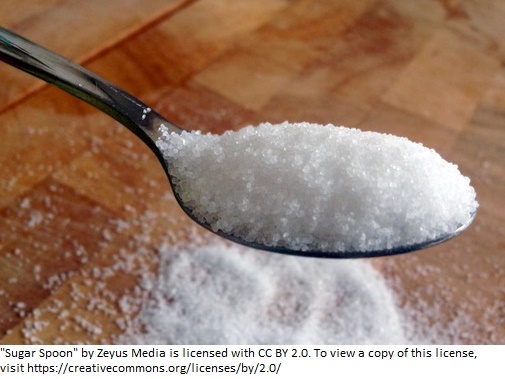 Use in moderation since too much sugar can be detrimental to your health
The "old fashioned" nutritive sweeteners
Nutritive sweeteners consist of varying proportions of the 3 monosaccharides (glucose, fructose and galactose). Sucrose (table sugar) is a glucose molecule bonded to a fructose molecule, similarly, lactose (milk sugar) is a glucose + galactose, and maltose is a glucose + glucose.
To be able to make better sugar choices for health and weight control, it helps to know what happens to them after they enter your body:
Sugar absorption and metabolism
All nutritive sugars can be harmful to teeth and cause health problems if consumed to excess. They should therefore be used in moderation.
Cane sugar is preferable to beet sugar. Over 98% of beet sugar grown in N. America is now GMO.
Calculations in chart
This chart enables you to compare sugars based on their glycemic index (GI) / glycemic load (GL) and how many calories are consumed compared to 1 metric teaspoon of table sugar (sucrose) to obtain the equivalent amout of sweetness. (Table sugar has 15 calories and a Sweetness Index (SI) of 1)
Equivalent calories to equal 1 metric tsp. of sucrose sweetness is calculated as:
Cals./ tsp. (i.e. g/tsp * cals / g) ÷ Food's sweetness index (SI)
E.g. Equiv. cals for honey = 7.1 g/tsp. * 3 cals /g ÷ .94 = 21.3 cals / tsp ÷ .94 = 23
Equivalent # of teaspoons to equal 1 tsp. of sucrose sweetness is calculated as:
Equiv. cals. to equal sweetness of 1 tsp sucrose ÷ Cals. / tsp
E.g. Equiv. # of tsps. of honey = 23 equiv. cals. ÷ 21.3 cals / tsp. = 1 "good" tsp. 😊
Glycemic Load (GL) is calculated as:
Food's GI * (Grams of carbohydrates / serving size) /100
E.g. GL of sucrose = 65 * 4g /100 = 2.6
"Sugars" in last column gives the percentage of total sugars in the specific sweetener, not percentage of total composition (which would include moisture content)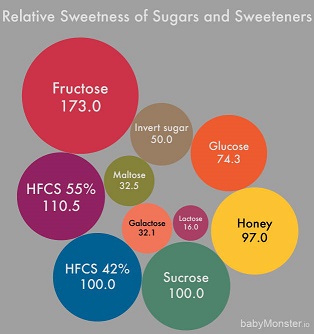 Sucrose is the standard to which all other sweeteners are compared.
How is SI determined? The simplest method uses the discrimination method , which asks the tester to choose the sweetest between two samples (2-alternative forced choice or 2-AFC). This has not unexpectedly yielded different results from different test sources. The following chart lists the average findings.
Humans can recognize sweetness in about 1 or 2% sucrose solution. Coffee is typically sweetened to about the level of 5% sucrose. Soft drinks are usually about as sweet as 10% sucrose.
There are 4.02 grams (nutrition facts generally round this down to 4 g / tsp.) in 1 U.S. / metric teaspoon (5cc or 5 ml) of granulated table sugar. BTW - the Brits' definition of a teaspoon is whatever comes out of the cutlery drawer to stir their tea :)
A web search reveals varying figures for amounts of calories in sugar comparisons. This is mainly because people have different ideas on teaspoon size, do not account for different densities of sugars (which determines calories / teaspoon), and also round off numbers. The calculations here are specified.
The "Calorie" mentioned on a food package is actually a kilocalorie, or 1,000 calories. A Calorie (really kcal) is the amount of energy needed to raise the temperature of 1 kilogram of water 1 degree Celsius.
SWEETENER
Equiv cals.
to = 1 tsp.
of sucrose
sweetness

g/
tsp
Cal
/g
Sweetness
Index

(SI)

:
Glucose
= 1
Glyc.
Index
(GI)
Glyc.
Load


(GL)

Notes
Sugars / Production

Sucrose

(Table sugar)
(Domino's granulated; demerara brown)


15 cals




(1 tsp. or 5cc)

4
3.75

1

65
+/-4

2.6

In honey, maple syrup, fruit, veg;
Used in candies, desserts


Glycosidic/covalent bond links glucose and fructose molecules
50% glucose /50% fructose;
from sugar cane or beet;
Confectioners sugar

16 cals

2.54
3.99
Used in candies, cakes etc.

Glucose

(Dextrose;
Grape sugar)

18 cals




( ~1 1/3 tsp)

4
3.33
3.8
0.74


100



5.2

Adds sweetness and texture to food;
Used in hospital drips, vit C prod.
Monosaccharide; C6H12O6 ;
Body's main fuel;

Fructose

(fruit sugar)

10 cals




(~2/3 tsp)

4
3.66

1.5



19

0.5

In fruit/veg, HFCS;
used in relatively minor amounts;
Monosaccharide;
Digested differently to other sugars
(

excessive intake

linked to several health problems);
mostly From modified corn starch;

Galactose

38 cals




(2 1/4 tsp)

4
4.2


0.44


0.3
.35
.6
.4-.6
25

In milk and dairy
Monosaccharide;

Lactose

(milk sugar)


88 cals

4
4.2

0.19


0.15
.2
.16
.2-.3
45

In milk (but almost none in butter, cheese and yogurt)
Disaccharide;
(glycosidic bond: glucose+galactose)

Maltose



56
(1/3 tsp)
4
4.2
0.3
.3-.5
.5
.32
.3-.4
105
In beer;
used in bread-making;
sold as syrup;
Disaccharide;
glycosidic bond: (glucose+glucose)
from germinated barley;


Trehalose

(glucose+glucose)
37 cals
(~ 1/2 tsp)
4
4.2
0.45
70
In mushrooms, honey, bread, beer, wine, 20% in shiitake mushrooms and baker's yeast; cocoon of the beetle Trehala manna (likely source of manna in OT);
Dehydrated/Evaporated natural sugar cane juice


16 cals




(1 tsp)



4
1
43

Rapidura®;

Sucanat®

(contraction of

su

gar

ca

ne

natural);
burnt caramel taste;
Unrefined, crystallized cane sugar;

Muscovado Sugar

Moist;
strong molasses flavor
Unrefined cane sugar w/ high molasses content

Turbinado sugar

light caramel flavor
from 1st pressing of sugar cane, retains some molasses;

Brown sugar

Brown sugar is refined white sugar w/ molasses added back in;

Demerara sugar

Crunchy grains;
Toffee flavor
Boiled /dehydrated first-pressed sugar cane juice; retains some molasses

Coconut sugar

SWEETENER
Equiv cals.
to =1 tsp.
of sugar's
sweetness

g/
tsp
Cal
/g
Sweetness
Index

(SI)

:
Glucose
= 1
Glyc.
Index
(GI)
Glyc.
Load


(GL)

Notes
Sugars / Production

Raw Honey

- "Natural antibiotic"
23 cals
(~1 tsp)
( 7.1g/tsp
* 3 cals/g
=21.3 cals/tsp
then ÷ .94
= 23)
Equiv. tsp.
is 23 ÷ 21.3

7.1
3
.

94



55
+/-3

4

Natural sugar;
Produced by bees from nectar;
sugars: 43% glucose / 49% fructose
/5% disaccharides (sucrose, maltose, isomaltose, maltulose, turanose and kojibiose)

Maple syrup

13 cals
(1 tsp)
5
2.6
1
0.6
54
Natural sugar;
boiled/evaporated maple sap;
~ 50% glucose /50% fructose

Blackstrap Molasses

17 cals
(1 1/4 tsp)
7.1

2

0.85



55
Sugar extract

Barley malt syrup

40.6
(2 tsp)
7.1
2.86
3.2

0.5

45
42
Sugar extract;
germinated barley;

Turbinado cane sugar

Natural sugar

Date sugar

4.56
3.3
Natural sugar

Golden syrup

1.1
60
Tate and Lyles Golden Syrup
49% fructose/49% glucose/10% other

Invert sugar

50
Used in food industry; soft centers of candies, marzipan, liqueurs; helps preserves foods; prevents crystallization /drying out;
Made from sucrose; draws water;
45% glucose /45% fructose (unbound) /10% other;
SWEETENER
Equiv cals
to =1 tsp.
of sugar's
sweetness
g
/
tsp
Cal
/
g
Sweetness
Index

(SI)

:
Glucose
= 1
Glyc.
Index
(GI)
Glyc.
Load


(GL)

Found /Used in
Sugars / Production
High fructose corn syrup




1

Made from corn starch
HFCS-42
42% fructose

27

6.75
4

1

58
Beverages, processed foods, cereals,
baked goods
42% fructose / 52% glucose
HFCS-55
55% fructose

24

6.75
4

1.1



68

soft drinks
55% fructose / 41% glucose
Corn syrup
/glucose syrup
30-40
100
Glucose + oligoglucose
(short chains of glucose)
Corn syrup solids
23-40
100
Dehydrated corn syrup
Agave syrup / nectar

13.5


(1/2+ tsp)
7.1
2.86

1.5





12.5



Up to 92% fructose;
highly refined
Brown rice syrup
32
4
2.6
0.5
25-98
Enzymes used to breakdown starch in cooked brown rice;
metabolizes to 100% glucose
Maltodextrin
6-21
100
Additive in processed foods
Longer glucose chains than corn syrup;
Made from corn, potato starch, rice, wheat
References

DISCLAIMER: The content on this website is intended for informational, and educational purposes only and not as a substitute for the medical advice, treatment or diagnosis of a licensed health professional. The author of this website is a researcher, not a health professional, and shall in no event be held liable to any party for any direct, indirect, special, incidental, punitive or other damages arising from any use of the content of this website. Any references to health benefits of specifically named products on this site are this website author's sole opinion and are not approved or supported by their manufacturers or distributors.