Raw Honey -

Natural Antibiotic
Honey is a sweet food made by bees using nectar collected from flowers - the type of honey consumed by people is made by honey bees (Apis genus).
Used as a sweetener in foods and drinks - has a distinctive flavor. 1 teaspoon of honey contains 22 calories.
Honey can contain dormant bacterial endospores of Clostridium botulinum, which can be harmful to infants < 1 year old - since the spores can transform into toxin-producing bacteria in an infant's immature GI tract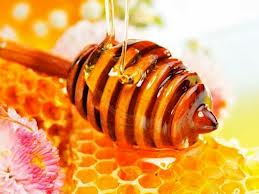 Honey should be used in moderation to prevent its sugar content elevating INSULIN levels -possibly causing:
• Overweight
• High blood pressure
• High blood cholesterol
• Diabetes
Raw honey contents
Typical raw honey contains:
Water

17%

Natural Sugars (TOTAL)

79.4%

Fructose

38.2%

Dextrose (Glucose)

31.3%

M

altose

7.1%

Sucrose

1.3%

Other Sugars

1.5%
1 tsp.honey contains 4 g fructose - since it is advisable to limit overall daily fructose intake to ~ 25g, you should therefore consume honey in moderation
Minerals - E.g. magnesium, potassium, calcium, sodium, chlorine, sulphur, phosphate and trace minerals copper, iron, chromium, manganese, selenium.
Vitamins - depending on the quality of the nectar and pollen: B1, B2, C, B6, B5 and B3.
Pollen - rich in antioxidants, protein and enzymes
Flavonoid antioxidants - can neutralize oxygen radicals:
• Pinocembrin (possibly unique to honey)
• Pinostrobin -supports enzyme acitivity
References
Honey as a topical antibacterial agent for treatment of infected wounds
"Health Benefits Of Honey". Bees-Online:An Educational web site about Honey Bees and Beekeping.