Table sugar (Sucrose)
Americans consume table sugar in excessive amounts with serious health consequences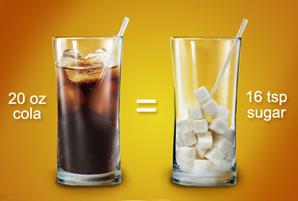 The U.S. per capita intake of table sugar (sucrose) is about 64 pounds a year. USDA.
Refined sugar is in many processed products: E.g. spaghetti sauce, salad dressing, peanut butter, mayonnaise, and ketchup;
Excessive consumption of refined sugar is taking its toll on health. The following links address the specific health concerns of over-consumption of sugar(and HFCS) and offer ways to reduce intake of these substances:
Too much sugar - A common addiction adversely affecting health
Too much fructose - Burdens liver / Increases inflammation / Favors fat production
If I were president . . .
To get across the reality of how much sugar is in a product, this author would change product labeling amounts for sugar from grams or ounces into teaspoons:
1 ounce of sugar / 28.35 grams = ~7 teaspoons
Consider, for example:
Product

Teaspoons of sugar

Coco Cola vitamin water (20 oz) (Should be called "sugar water")
8
Oscar Mayer Lunchables crackers, turkey & American cheese
7 ¾
Coca-Cola Classic (12 oz can)
8 ¼
Yoplait original yogurt (6 oz)
~7
Starbucks Caffé Vanilla Frappuccino Blended Coffee Whip (16 oz)
15
Cranberry Juice (Ocean Spray 100% Juice/

no sugar added

)(

8 oz

) - sugar comes from fruit juices
8 ½
To figure number of teaspoons of sugar:
Divide # of grams by 4. Look at the label where it says "total sugars" and divide the number of grams by four. This computation alone should scare you away!
Multiple # of ounces by 7.
Don't you think that seeing those teaspoon amounts would likely hit home and make you think twice before consuming them? Then . . . I NEED YOUR VOTE! :)