1-2-3 PLAN: (2) Eliminate Cancer Cells - STAGE IV / ADVANCED Cancer
BRANDT GRAPE CURE
Red, purple and black grapes contain natural substances which are toxic to cancer cells, but harmless to normal cells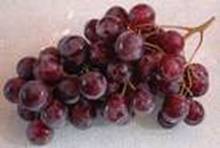 The BRANDT GRAPE CURE has been around since the 1920s.
The BRANDT GRAPE CURE is essentially a fast, where absolutely nothing is consumed during the treatment except natural water and grapes (taken in the form of whole grapes or grapes you process yourself). With no other choice for an energy source, the cancer cells take in the grape contents, including an ingredient which proves fatal to the cancer cells, but is harmless to healthy cells. The treatment can last several weeks and can be repeated. Success of this treatment may actually be in devitalizing microbes in cancer cells
BRANDT GRAPE CURE can NOT be combined with CESIUM CHLORIDE/DMSO PROTOCOL. Cesium blocks glucose entry into cancer cells. CARROT / BEET JUICE PROTOCOL works similarly to kill cancer cells.
BRANDT GRAPE CURE Using the new Super-Juices
Three new fruit juices have been discovered which have far more cancer-fighting properties than grapes. This treatment is essentially the BRANDT GRAPE CURE, but instead of using grapes, these new super-fruit juices are used. It is recommended that this Super-Juice treatment last no longer than three weeks, but it can be repeated.
BRANDT "GRAPE" CURE Using Carrot and Beet Juices
NOT to be combined with the BRANDT GRAPE CURE
This is a variation of BRANDT GRAPE CURE
Details on these therapies are not yet available on this website, but a google search will help you find what you need to know.