Basal Cell Carcinoma (BCC)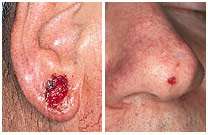 Most common type of cancer in the U.S. and the most common skin cancer . BCC is usually benign i.e. a relatively harmless skin cancer. Round basal cells reside under the squamous cells. Typically looks like a red patch, scar, shiny bump, pink growth or an open sore, which can bleed, ooze or crust. Rarely spreads or metastasizes, but should not be ignored since it is more easily treated whilst small.
Basal cell carcinoma (BCC) treatment choices

DISCLAIMER: The content on this website is intended for informational, and educational purposes only and not as a substitute for the medical advice, treatment or diagnosis of a licensed health professional. The author of this website is a researcher, not a health professional, and shall in no event be held liable to any party for any direct, indirect, special, incidental, punitive or other damages arising from any use of the content of this website. Any references to health benefits of specifically named products on this site are this website author's sole opinion and are not approved or supported by their manufacturers or distributors.